Welcome to our November Calendar Girls' Blog Hop. It's absolutely amazing when you do a Google search the interesting facts you may find. Such a find is special and unique occasions throughout the year!!! These unique holidays are our inspiration. As Neil Sedaka sang in his song "Calendar Girls" - "November, I'll give thanks that you belong to me!!"
Our hop begins today with the lovely and super talented Lynne aka Her Craftiness which may be found at
http://slasewcraftiness.blogspot.com/
. The entire line-up is available just in case you get bogged down with all the holidaze and craziness as you won't want to miss a single calendar event!!!!
Lynne ~
http://slasewcraftiness.blogspot.com/
Vicky ~
http://crafting-vicky.blogspot.ca/
Jearise ~
http://lorbysworld.blogspot.com
Sandy ~
http://aworkingmomsjoy.blogspot.com
Christine ~
http://www.creativelivingwithchristine.blogspot.com
Edwina ~
http://edwinascreations.blogspot.com/
Lucy ~
http://love2createitall.com
Laura -
http://www.lauraleesdream.blogspot.com
In case, you get lost along the way with all the craziness of the holidaze, here's the complete line-up to follow along with the streamers, cards, lay-outs and super creativity of the marvelous Calendar Girls:
Aviation History Month ~ Lynne
National Model Railroad Month ~ Lynne
Native American Heritage Month
Peanut Butter Lovers Month ~ Edwina
November, 2013 Daily Holidays, Special and Wacky Days:
2 Book Lovers Day - Vicky
2 Deviled Egg Day
3 Housewife's Day
3 Sandwich Day
4 King Tut Day
6 Saxophone Day ~
7 Bittersweet Chocolate with Almonds Day
8 Dunce Day
9 Chaos Never Dies Day
- you've got that right
10 Forget-Me-Not Day ~ Edwina
10 USMC Day
11 Veteran's Day - Jearise
12 Chicken Soup for the Soul Day - Jearise
12 Young Reader's Day ~ Jearise
13
Sadie Hawkins Day
13 World Kindness Day ~ Sandy
14
Operating Room Nurse Day
15
Clean Your Refrigerator Day
15 America Recycles Day~ Lucy
16 Button Day ~ Lynne
16 Have a Party With Your Bear Day ~ Christine
17
Electronic Greeting Card Day
- now who do you think created this day!?
17 Homemade Bread Day ~ Lynne
17 Take A Hike Day- Laura
17 World Peace Day ~ Lucy
18 Occult Day
~
19 Have a Bad Day Day ~ Lynne
20 Absurdity Day -Laura
20 Beautiful Day -Laura
20
Universal Children's Day - Laura
21
Great American Smokeout -
21 World Hello Day ~ Lynne
22 Go For a Ride Day ~ Sandy
23
Eat a Cranberry Day
25
National Parfait Day
26 Shopping Reminder Day
- Vicky
27 Pins and Needles Day ~ Lynne
28
Red Planet Day
28 Thanksgiving -Eat, drink, and be thankful. ~ Sandy
29 Black Friday ~ Christine
29 You're Welcome Day - Sandy
The Blog Candy being offered this month is a machine-embroidered angel which can be used as a bookmark or an early start to decorate your Christmas Tree!!!! Winner gets to chose the color of her angel from pink, white, ivory, or gold.
I have been busy with lots of projects to go with young readers and Veteran's Day. I'm sorry but I didn't get a project for Chicken Soup for the soul day done. Once you see what I've been up to, I'm sure you'll understand.
Let's start with Veteran's Day. I've wanted to make cards to give out to the Veterans for many years but never seem to have time. This Year I was determined to make time and I made 18 cards to hand out when we go to a war museum for a tour this weekend. I want to make more before the weekend's up to hand out Monday at the Veteran's Day Memorial service.
Now for Young Readers day which is the 12th I am showcasing bookmarks I made using scraps. I sent these bookmarks to be used to help raise money for one of the food banks in Tucson, AZ. As you can see, I even made some card with matching bookmarks.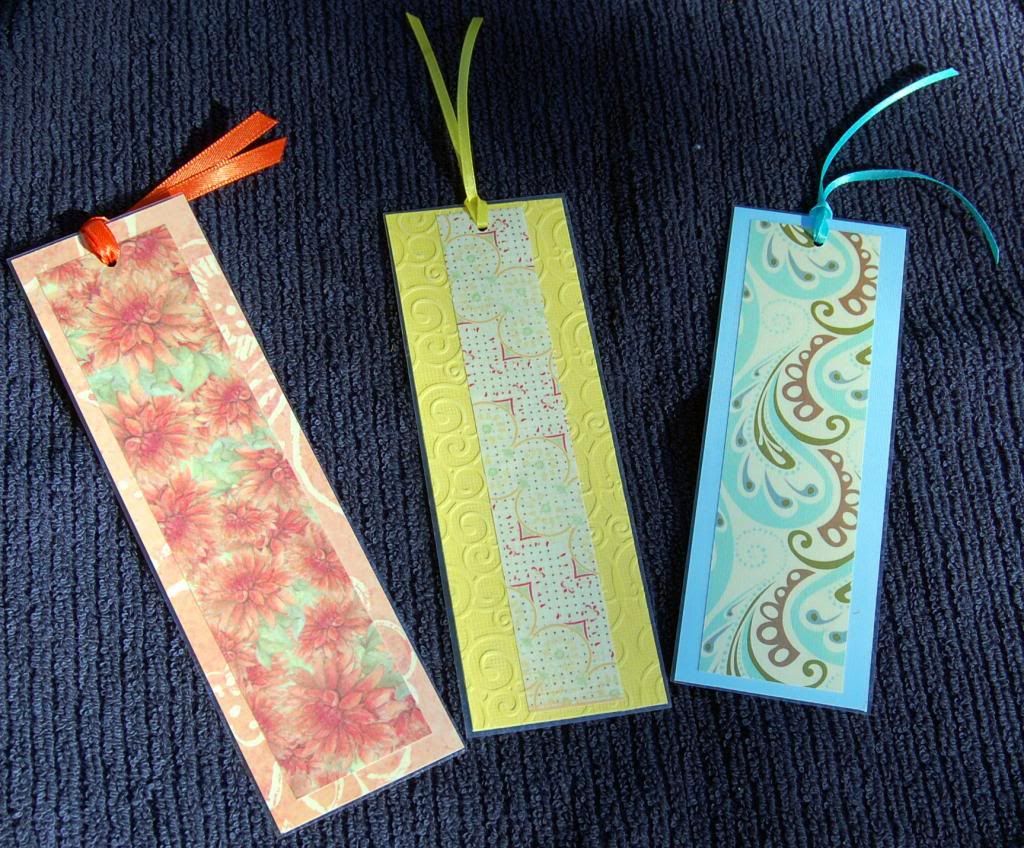 Thanks for stopping by today and your next stop along the way is
Sandy's Blog
. Don't forget to stop back next month on December 14th for the last Calendar Girls Day of the Year . . . .